AVIA has adopted an eco-friendly policy for the preparation of the fuel distributed by Picoty (+33(0)5  55 89 38 05 – western France) and Thévenin & Ducrot (+33(0) 3 80 48 44 00 – eastern France). All types of fuel offered are high-performance and comply with European standards. Our brand monitors the development of new formulations.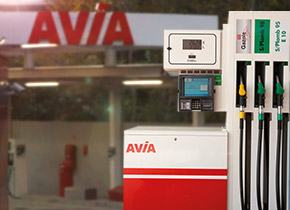 The quality of AVIA's fuel
Super-grade fuel contains ETBE (ethyl tert-butyl ether) and ethanol, a product processed industrially from wheat or sugar beet.
Diesel contains VOME , a vegetable oil methyl ester (from rapeseed and sunflower).
Future prospects
AVIA is particularly attentive to changes in the world of second-generation biofuels (non-agrifood based) and alternative fuels.
AVIA also offers fuel for tractors, farm machinery, and public works and quarry machines.