On motorways, AVIA offers a variety of food service concepts for every time of the day (breakfasts, sandwiches, quick lunches, self-service cafeterias, brasseries, counter service, etc.).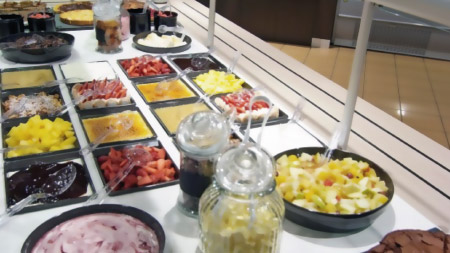 If you feel like a hot or cold snack, a meal or just a coffee, you'll find exactly what you want.
We offer a wide variety of quality seasonal products for the young and not-so-young in a comfortable, relaxing setting.
In partnership with food service leaders, we have everything you need: Bert's, Coeur de Blé, Comptoir Casino, Elefanto, Eris, Flunch, KM Café, McDonald's, Subway, and more …
Whether you are just making a stop or can stay for a while, AVIA offers many solutions in all price ranges.
Would you like a hot drink to take away or enjoy on site? AVIA has installed beverage vending machines on the motorways. Enjoy coffee, tea, hot chocolate, soup, specialities and tasty coffee-based treats
(like cappuccino) in our modern, pleasant atmosphere.