To protect the beauty of your automobile, AVIA stations offer roller and high-pressure car washes.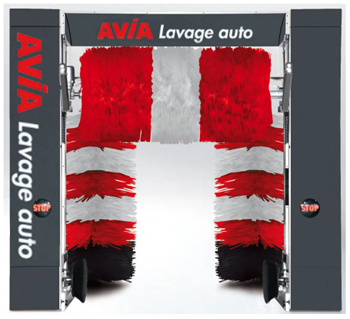 Roller washing
The AVIA network is constantly renewing its equipment and has chosen portal carwashes with the latest technology.
Soft anti-scratch brushes that not only are gentle on your bodywork, but that are noticeably effective
Prewashing with active foam sprayed on the bodywork, helping dissolve the dirt on vehicles that need cleaning
Effective cleaning of the wheel rims and frame by rotating, high-pressure brushes
Integrated high-pressure sprayer booms to wash the underside of your vehicle in harsh weather regions
Optimized drying via the detection of the contours of the vehicle to prepare the bodywork for polish that preserves the paint and brings a long-lasting shine to your vehicle.
Thanks to a process that preserves water, we contribute to the cleanliness of your vehicle while respecting the environment by regularly performing maintenance on our facilities.
High-pressure washing
To wash four-wheel and two-wheel vehicles.
Hot water, high-pressure wash
Rinsing with demineralized water for an optimal, trace-free result
Polish to bring a shine to your bodywork
Modular washing time to insist on the most tenacious dirt, worry-free.
Information on this service is provided in the Smartphone GPS app for AVIA petrol stations (App Store / Play Store).
Sustainable development
AVIA's car washes are all equipped with wastewater processing systems to settle out the sludge from the wastewater and then separate the hydrocarbons to prevent them from entering the sewer system. Sludge and hydrocarbons are then regularly collected by specialized companies and transported to accredited treatment centres.